Free up space by storing your ladders on KRS Ladder Rails
The KRS Ladder Rails system is lightweight yet extremely strong, designed for commercial vehicle requirements. The specially mounted low friction skid blocks and rail extrusions ensure ease of loading and unloading of ladders.
Safely secure ladders from rear of vehicle, eliminate the dangerous practice of securing ladders on driver's side of vehicle with oncoming traffic.
With over 20,000 vehicles fitted with KRS Ladder Rails throughout Europe and ZERO warranty issues, you can be assured of quality and reliability.
Extension Ladder Rail Kits available in 2.0m, 2.6m or 3.0m lengths
Step Ladder Rail Kits available in 2.6m or 3.0m
Each Ladder Rail Kit includes:
One pair of anodised ladder rails to carry one ladder
One pair of anodised ladder hoops and 1 rear camloc mount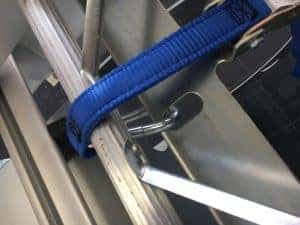 Load your extension or step ladder with ease.
Slide your ladder onto the rails and use the one step ratchet style strap (Camloc Mount) to secure your ladders.
Load AND secure from the rear of your vehicle easily and safely.
Note: Roof racks are not included with KRS Ladder Racks, but they work great with KRS Roof Racks.