End caps and clamps to keep those pipes secured
PVC pipes are an excellent way to transport fishing rods, tent poles, stakes and any other similar items that are awkward to fit in a standard vehicle.
Our KRS bazooka end caps and pipe clamp brackets are designed to transform regular PVC pipe into a lockable, affordable container to keep your contents protected, while ensuring they can't slide apart.
Lock it tight with These KRS products
Whether you're heading off for a spot of fishing and camping, or regularly carry long, fragile loads for your trade, our end caps and pipe clamps have been specially engineered to enhance your PVC pipes. The KRS bazooka lockable end caps expand your transport options and keep your goods protected and secure and our pipe clamps have been developed to keep loads firmly affixed under hard braking or even collisions.
Check out the product range to find the right PVC end cap for your needs.
Bazooka end caps to Create flexible,
secure storage for your vehicle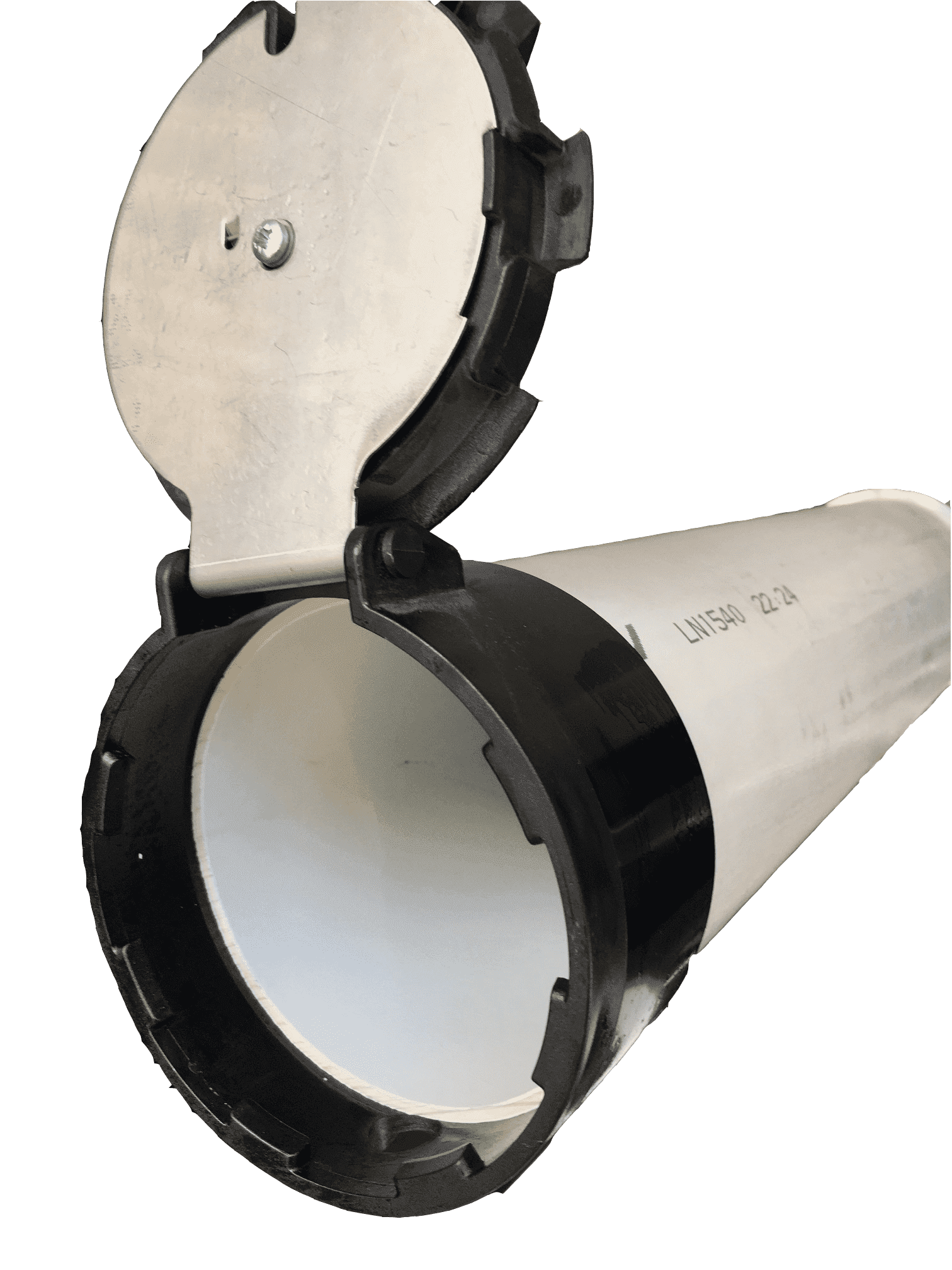 Strong and secure construction
Each KRS bazooka cap incorporates a stainless steel plate behind the exterior face. These have been crash-tested to withstand over 30G of force to keep your goods contained on impact.
For additional protection against theft, each conduit end cap can be secured with a padlock to keep everything locked up tight. This also gives you the option to use a combination lock if you don't want to carry an additional set of keys to gain access.
Simple twist and lift operation
Forget dropping or losing PVC locking caps. KRS end caps feature a simple twist and lift design that keeps the cap firmly attached to the conduit at all times, while sitting clear of the opening. Once you've loaded or unloaded the conduit, simply close the lid and twist back into the locking position.
100mm & 150mm PVC pipe lockable end caps
The KRS PVC locking end caps come in two sizes to provide versatile storage options. The smaller cap suits 100mm PVC pipes, ideal for transporting narrower loads to minimise movement. The larger conduit locking end cap will fit 150mm pipes, making it a fantastic choice for fishing rods as the reel can also be securely housed within the pipe.
PIPE CLAMPS FOR ASAFE AND STURDY WAY
TO FASTEN CONDUIT AND PVC PIPES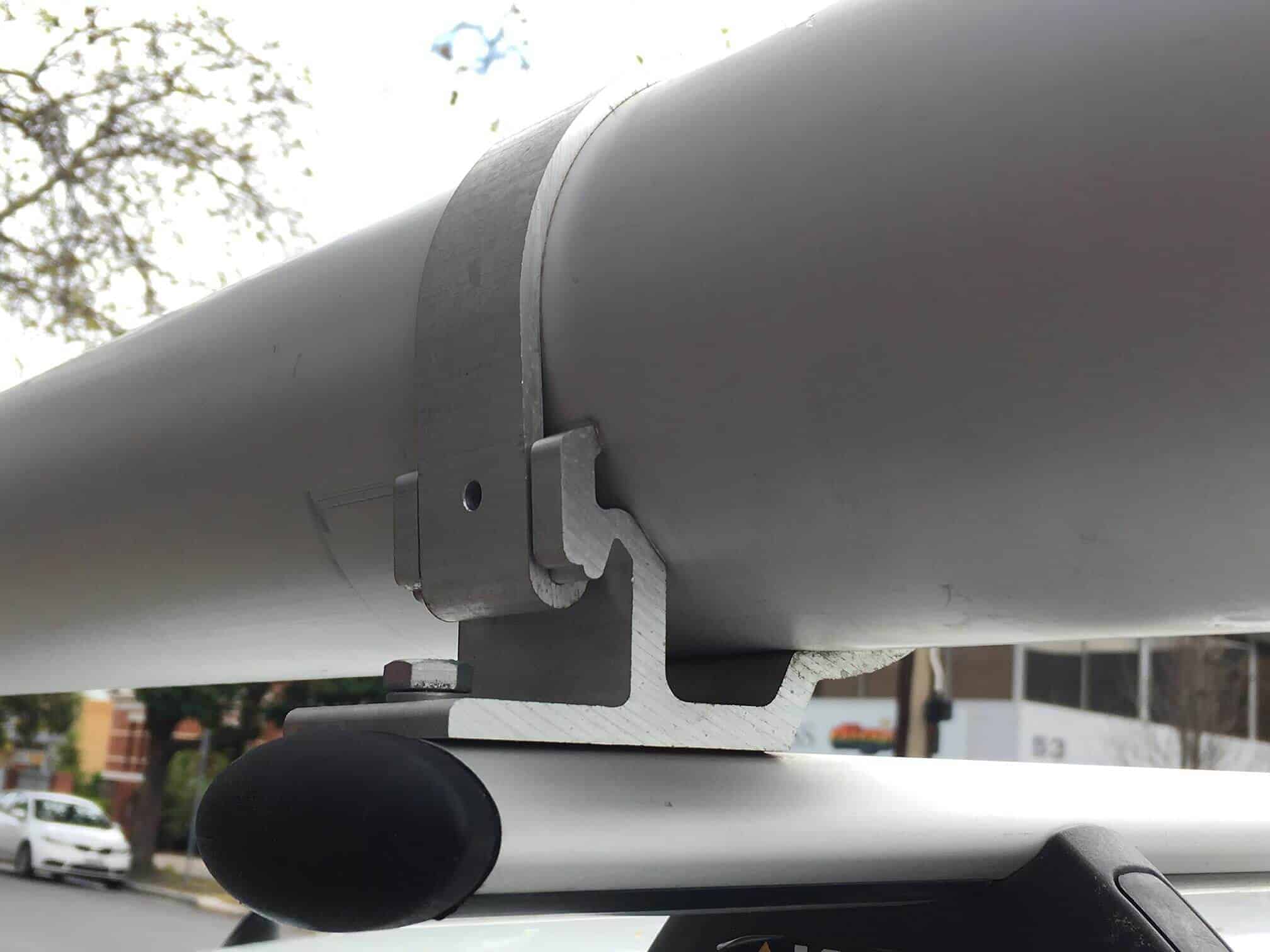 RIGOROUSLY TRIED AND TESTED
Most pipe clamps that fit roof racks will do the job under ideal driving conditions, but what happens when you have to brake suddenly, or worse, are involved in a collision? Will those same clamps keep your load secure, or turn them into a dangerous projectile?
Australian-made KRS aluminium pipe clamps have undergone extensive testing to simulate crash conditions. The innovative interlocking design can withstand forces above 20G without the closing mechanism slipping or failing, unlike other clamps tested under the same conditions which failed to stay closed or keep their loads firmly in place.
QUALITY CONSTRUCTION
KRS pipe clamps are made from high-quality aluminium to provide great strength without additional weight. The internal surface of the clamp also features small ridges to create additional grip and further reduce slippage while goods are in transit.
Each pipe clamp kit includes a strong, durable two-piece aluminium clamp and non-corrosive stainless steel mounting brackets that will fit most branded roof racks. Pipe clamp kits are sold singularly, in pairs or packs of three for your convenience.
Multiple Options
Available in both 100mm and 150mm diameters, you'll be assured a snug, secure fit for standard PVC piping. For narrower pipe or conduit, stack these inside a larger pipe and secure with lockable KRS bazooka end caps. The interlocking clamp closure and steel plate housed within the end cap make for safe and easy transit.
BAZOOKA END CAP
Design features
You'll find many intelligent design features in the KRS bazooka end caps:
internal stainless steel pivot plate for additional safety
crash-tested and rated to surpass 30G impact*
100mm and 150mm diameters for greater flexibility
locks with padlock for maximum security
constructed from UV resistant and recyclable glass-filled nylon
The KRS lockable end caps for PVC pipe come in black, as well as hi-vis orange for clear visibility when transporting longer loads.
* Impact at 48.6kmph for 33ms, typical of crush pulse seen in real collision circumstances.
PIPE CLAMP
Design features
You'll find many intelligent design features included in the KRS pipe clamps:
lightweight aluminium construction
interlocking design to firmly secure clamps together
holds loads fast at impacts surpassing 20G
will securely hold 100mm and 150mm diameter conduit
easy to fit to most branded roof racks, including the KRS roof rack range
engineered from fully recyclable material