Miniwash Hand Washing Unit Features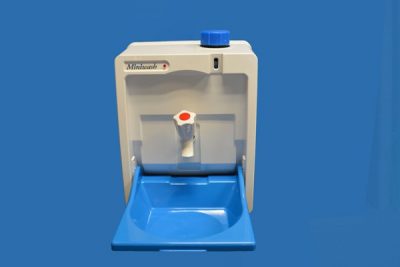 The Miniwash Hand Washing Unit has a large Filler Opening – allows easy filling
Water Level Indicator
Indicator Lamp – illuminates when heater element is operating
Quality Tap – maintenance free
A cover moulded from super tough, UV resistant polymers suitable for internal and external applications
Fold Down Basin – drains automatically when folded up
Drain Hose, drain hose fitted to the base of the unit for dispersion of used water
Easy Installation, the unit can easily be mounted to any vertical surface and wired to a 12 or 24 volt power source.
The Heavy Duty Element uses highly corrosive resistant materials and state of the art electronics. The water element thermostatically controls the hot water temperature to 44° C. The system is also protected by a thermal overload safety device.
Specifications
To view PDF of brochure with specifications and dimensions click here: PDF.
Weight: 4.4kg Empty, 10.3kg Full (9.70lb Empty, 22.70lb Full)
Water Capacity: 6.0 litres (1.63 US Gallons)
Voltage – 12V System: 9.6 Amps at 12 Volt DC
Voltage – 24V System: 7 Amps at 24 Volt DC
Hot Tap Only
Unit is thermostatically controlled
Power Lead connected to vehicles power supply via a relay, so the unit is only operational when the vehicles ignition is on